I'm an adventure sports photographer and adventurer. I'm originally from the U.S., but have just moved to France. In the U.S., I often car-camped out of the back of my 2002 Subaru Forester; but here in Europe, my setup has been upgraded to a Volkswagen T6 Transporter van outfitted with Camp It Simple's DIY setup. 
In this post, I'll walk you through the best way to setup your Camp It Simple kit; I set up mine in the middle of the city, so you truly can build it anywhere. 
How many of you have ever scrolled through Instagram, lusting after all those #vanlife photos? And how many of you have ever looked into building your own campervan, only to find that its cost and effort are way out of your budget? 
I'm here to tell you that it's possible to have both things: you can live the #vanlife, keep it simple, and build your own campervan conversion in less time than it takes you to take a shower. Seriously.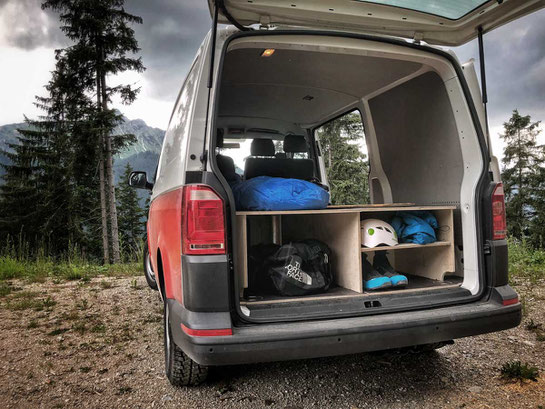 Who says that building your home on wheels has to be complicated?
In this post, I'm going to help walk you through the best way to convert your regular ol' VW van into a home on wheels with Camp It Simple. 
Camp It Simple is an easy, DIY kit that helps you turn your VW bus—a VW T6 or VW T5—into a campervan in less than 10 minutes. It's a sturdy, wooden kit that snaps together in the back of your van to create storage sections, tables, and a sleeping platform. 
No matter where you live, the conversion process is easy with Camp It Simple. Besides the fact that the pieces come pre-cut, ready to assemble and delivered right to your door, it's possible to build the kit inside your van virtually anywhere.  Want to guess where I assembled mine? In the middle of the city. No space? No stress.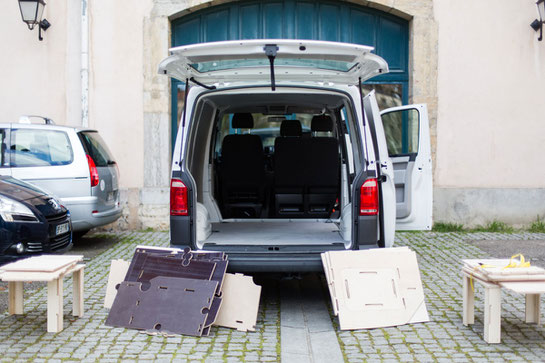 To build from scratch, or to keep it simple?
How many of you are converting a van on a budget? (If you answered "not me," keep on reading anyway) 
No, but seriously--even though converting a van is supposed to be simple, the costs aren't. This is where Camp It Simple saves those of us budget-confined folks: there aren't any nasty surprise costs with CIS like there are when converting a van without it. 
Think about it. If I were to convert a van from scratch, I'd have to buy all of the wood, nails, screws, sandpaper, etc. Then, on top of that, I'd have to either buy or rent some seriously expensive tools. (I don't know about you, but I don't exactly have a buzzsaw lying around at home.) The cost of all of this—alone, from scratch—would cost more than the van itself. 
The fact that Camp It Simple lets adventurers like you and me go from "zero to camp-ready" in less than ten minutes is a serious game changer. Instead of spending tons of money, time and energy buying and hauling materials to-and-from our vans and building our conversions from nothing, we can choose to spend that time and money getting ourselves into nature instead. 
When we think about going through a campervan conversion, what's the main point? The whole idea is to have a tool that helps us to get into—and to get out in—the outdoors. We convert normal vans into camper vans because they give crazy people like us the chance to drop everything, and to head out into the wild for a few days. 
Converting the van should be an afterthought. The whole point of going into nature is to simplify our lives, right? So why shouldn't the process of arriving there be simple, too? 
So! Let's walk through a few quick tips for transforming your van from "zero" to "camp ready" in ten minutes.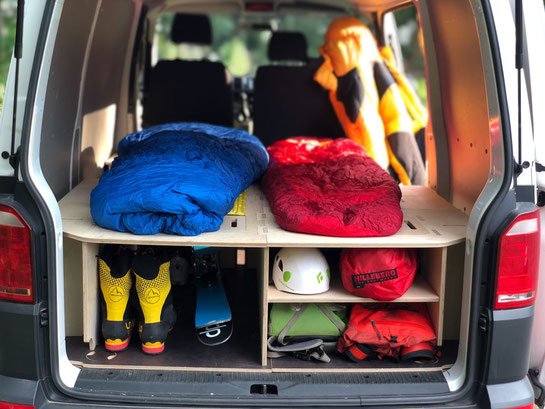 Choosing a Location for your Conversion
Do you have a perfect, picturesque, open space to assemble your campervan? Yes? Awesome. No? You're in the majority; most of us don't have access to a garage or another undisturbed site to assemble our tiny homes…myself included. 
As I mentioned earlier, I live in a city—in Lyon, France to be exact. Cities can be fun, but I'm sure that any of you who live—or have ever lived—in a city can relate when I say that they don't exactly come off as an easy "build site."
The funny part is that with Camp It Simple, it didn't matter that I did the "van to Camp It Simple" conversion in a city—it was just as easy. I was able to put together my campervan on a normal afternoon in the middle of the city. This just wouldn't have been possible if I'd been buying and building the van with materials from scratch. 
So, from my city-build experience, here are a few tips to make your conversion go as smoothly as possible:
Step one: choose a place that you won't be blocking other cars…and a place in which you're parked legally. Although you could hypothetically do your Camp It Simple build anywhere, it's always best to stick to your city's parking rules while assembling your van. 
Step two: choose a place that you can comfortably open the trunk. This way, you'll be able to slide the pieces into the cargo hold easily. 
Step three: this might sound obvious, but definitely check the weather! I ran into a whole week of rain when I was planning to convert my campervan, and decided to wait for a sunny window. While rain wouldn't make the assembly any more easy or difficult, everything is just a little bit more fun when it's sunny. 
That's really it! You could virtually choose any place as long as you can open your van's trunk and are parked legally. I chose to drive to a sunny, quiet spot in Lyon to assemble my Camp It Simple system.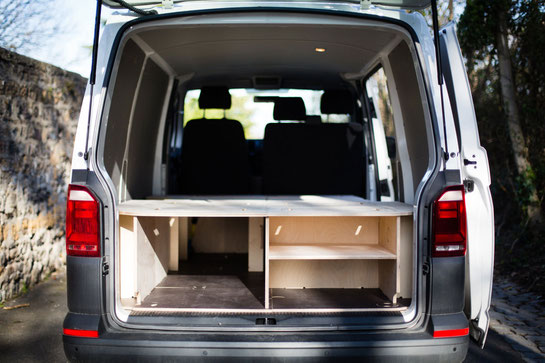 Tools
Okay, so you're going to need a hammer, a buzzsaw, an electric sander, a drill, a box of 200 screws, three friends to help…just kidding. 
You need…almost nothing. Honestly. All you need are your hands and a screwdriver to fix the total of 10 or so to put this baby together. 
Bring yourself, your van, your Camp It Simple kit, a friend to help, and a nice beer to enjoy afterwards.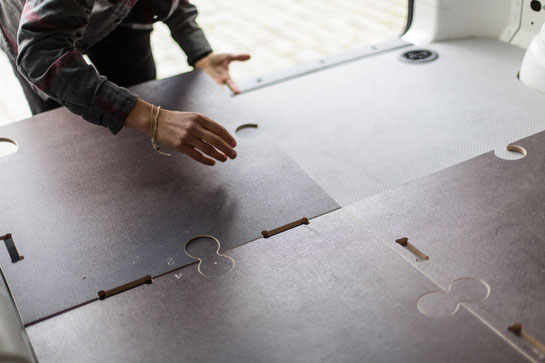 The Build

Once you've found the perfect spot, it's time to build your campervan. I suggest organizing the pieces into piles on the ground—i.e. lids, sideboards and floorboards. 
Then, one of you should get inside of the van while the other hands you each piece. 
First comes the floor, which is super straightforward. Just slide each floorboard into place, snap in the "bone" connecting pieces, and you're good to go. 
Next come the sideboards. Click them each into place, and then head to the front of the car to secure the obligatory safety straps. (These bad boys make sure that your system will stay grounded even though the most off-road adventures or in case if you have to slam the brakes really hard.) 
Once you've got the sideboards snapped in, go ahead and stick the covering plates on top. 
The last step? Slide the two tables into their opening. And with that, your sleeping platform is ready. Throw in some sleeping bags and you're ready to go--welcome to your very own DIY camper. 
The whole point of getting outdoors is to simplify our lives, right? So why on earth would we complicate the journey? 
If you want to live the #vanlife without all the complications, check out Camp It Simple. It's time to get adventuring.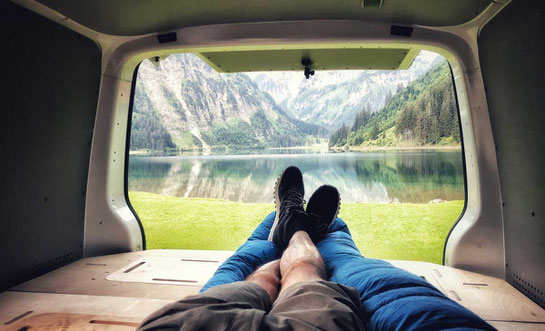 ---

About the Author: Kirsten is an adventure sports photographer and has been a CAMP IT SIMPLE user from day one. Her work can be found in a wide range of publications, including Outside Magazine, Runner's World, and the New York Times' sports section. She loves a good run and Michigan beer. You can check out more of her work on Instagram or her website.