You've got your van, you've installed your setup, and you're ready to rock. Now what? 
The next step: to educate yourself (and your travel partner) about vanlife safety and stealth camping. Yipee! (We'll make it fun, don't worry.)
In this post, we'll hash out the best stealth camping tips—and the best all-around safety tips—for living in your van.
The best way to enjoy the outdoors is to do so safely and preparedly. Keep reading to learn our best safety and stealth tips—and don't forget to share the love; send these tips to your travel buddy, too. 
Snoozing Safely in the Wild
In this section, we'll cover some simple safety tips. We'll keep it short—camping is about simplicity, right? 
The best way to ensure safe sleeping is to have a "mental safety checklist" when parking your van for the night. A good example list is below:
Is my parking brake engaged?
(For those who drive stick-shift): Is my van parked in the appropriate gear, i.e. 1st or reverse?
Is my parking spot safe from possible "out of control" vehicles? (e.g. parking to sleep on the "with-traffic" side of a curve or downhill is a definite no-go.)
Is my parking spot safe from flash flooding? (You can educate yourself about the best way to scout flash-flood potential here.) 
This may seem like common sense, but it's always good take a run through this checklist before bedding down. 
One final pre-bed safety tip for car camping: never, ever, use or stove to heat up your camper.  There is a suffocation risk when all doors are closed  (not to mention a fire risk, too) and should never be considered. 
How about cooking? Many campers choose to cook while standing outside of the vehicle—with the trunk and doors open—and using the trunk or the Camp It Simple platform as a workstation. This is very different than cooking inside of your vehicle, and poses much less risk.
The Art of Sleeping in Stealth
Have you ever gotten stuck trying to find a last-minute car-camping spot? It can be tricky, right? Don't worry, we've got you covered. Let's chat about a few tricks of the stealth-sleeping trade. To keep things straightforward, let's run through a quick list of tips. 
When stealth-camping, you'll want to make sure that:
If you're trying to sleep totally undetected, you'll want to set up just before it gets dark. This calls much less attention that if you started to unpack your van in broad daylight. If you're trying to fly super under the radar, you can pack up and head out before sunrise, too—but this is less important. 
You should always park backed-in, or in a "quick exit" position. This makes it easy to leave your spot should you need to get out in a hurry.
Never park behind gates (i.e. a farm, gated park, etc.) It would be a nasty surprise to wake up locked-in the next morning! 
Keep the driver's seat clear of items—and your key handy—for any needed emergency exits. 
You might want to avoid parking in the same spot for two nights in a row. This isn't crucial, but if you're trying to lay extra low (or stealth camping in a particularly strict area) it's a good idea to switch up your camp spot. 
Cover your windows at night. This will help give you privacy, and can be done with a windshield sunshade. If you're on a time or budget crunch, exercise mats also work well as window coverings in a pinch. (Exercise mats are always handy to have around for camping—they double not only as a great place to stretch and do core work on the road, but also as a nice, padded seat for eating dinner.) 
If you're looking to keep a low profile, another good idea is to camouflage your van. One way to do this is by altering the exterior to look more commercial/construction-oriented; you can apply commercial stripes to the car (red and white, for example) or even find some magnetic "construction" decals to stick to the side of your van. 
By posing as a construction vehicle, you raise less suspicion. This not only helps you to blend in while camping, but also helps to keep your van away from the eyes of thieves. …on that note, let's break down a few tips to keep your van safe from break-ins.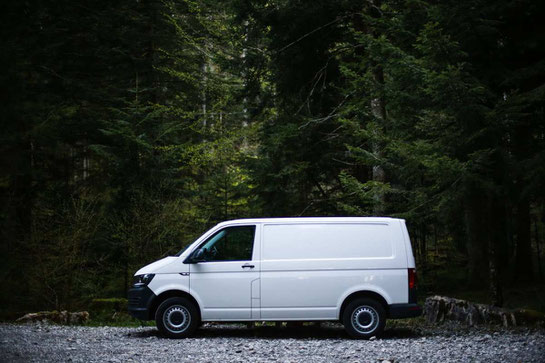 Guarding Your Goods
When living in your car, your vehicle also becomes your home. This means that keeping your van's contents safe becomes much more valuable than it does with an ordinary car.
As we talked about above, camouflaging your vehicle to "fit in" is the best place to start. For maximum security, you'll want to keep a low profile. (I've seen some vans that are painted to look like a plumber's vehicle, for example.) 
Beyond that, it's also important to lock your vehicle always. Even if you're just stepping away for a couple of minutes, you should make it a reflex to lock and double-check the doors each time that you step away from your van. Nothing is worse than being out on trail for two hours for your overnight back-country camp, suddenly questioning yourself if you have locked the car. Make it a habit.
Just like you'll want to cover your windows while sleeping at night, you'll also want to cover your windshield/windows when parking your car for the day. (A  sleeping pad stretched across the the windshield is a quick hack, but you would need something for nighttimes, too. The idea is to make it difficult for people to look inside your van.) 
In addition to covering your windows, it's also important to keep all valuables—and other items—out of sight. This is where the Camp It Simple system is especially helpful; the system keeps all of your gear out-of-sight beneath the sleeping platform. Keeping all of your "living" items hidden makes your vehicle less susceptible to break-ins; if it doesn't look like your whole life is inside the van, it's a less attractive target.
One final thought: if you're traveling for a particularly long period of time, or traveling with valuable equipment (camera, passports, etc.) you could even bolt a safe to the bottom of your van.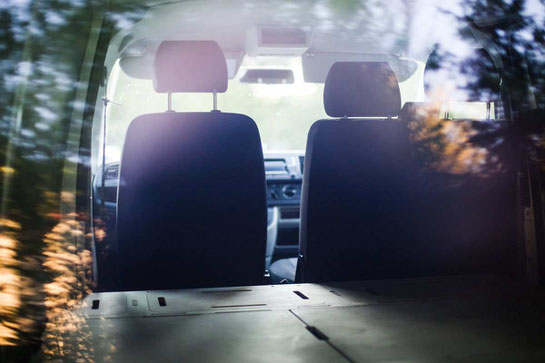 All My Solo Ladies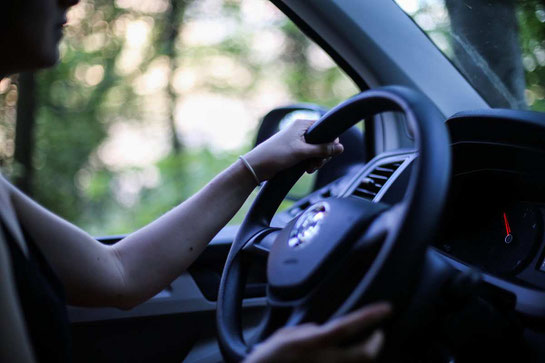 Are you living the vanlife as a solo female? 
This section includes safety tips that apply to all travelers regardless of gender; safety is important for everyone who travels alone. Women traveling or living alone in their van do, however, often have a few additional safety concerns—which is what we'll cover here. 
If you're feeling uneasy about stealth camping alone, there's no shame in heading to an official campground for the night. Another backup option is to spend the night in the parking lot of a well-lit, 24-hour establishment (such as a gas station, a hospital or even in front of a police station?) 
While this might not be an option for everyone, a dog can make a great travel companion. Your four-legged friend can keep you company, but an also work as an "alarm system" to give you some peace of mind at night. 
If you aim to keep a low profile while camping alone, you might choose to figure out an "indoor system" for those midnight pee breaks. While this might sound gross, it's a real thing to consider for those who'd rather not leave their vehicle during the night. Reliance makes a good "official" in-van toilet—or, if you're roughing it, you can always get creative with a funnel and/or bottle. 
A final, good safety tip is to brush up on your self defense skills. Kathy Long (five-time women's kickboxing champion and holder of three black belts) has a good guide to effective, realistic self-defense techniques. 
Conclusion
Now that we've covered the logistics, it's time to hit the road. Get out there! 
Remember to keep it safe, keep it simple, and to share your newfound wealth of safety knowledge with your travel buddies.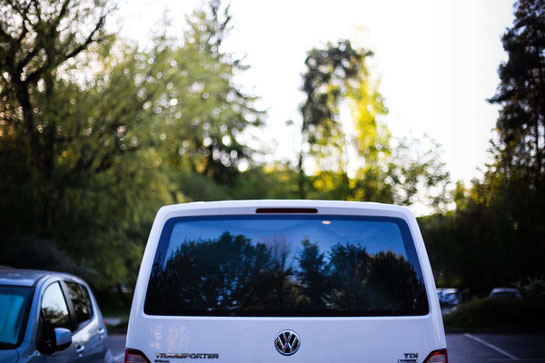 ---

About the Author: Kirsten is an adventure sports photographer and has been a CAMP IT SIMPLE user from day one. Her work can be found in a wide range of publications, including Outside Magazine, Runner's World, and the New York Times' sports section. She loves a good run and Michigan beer. You can check out more of her work on Instagram or her website.